Living Partially Off Grid
I had someone ask awhile ago if we were actually off grid or if we just explore with it. Well the answer is sort of both. We are still connected to public water and power, however, we live mostly off grid throughout the year.
Making beef jerky on the wood stove in the fall with the dehydrating rack Mr. Rain built
Since we have an extensive solar power set up, summer is easiest for us to be pretty independent of the grid. We are not grid tied with our solar and we plan to keep it that way. We want what is ours to be ours. Period.
For a rather detailed explanation of our solar set up, here is a video Mr. Rain did on it:
From spring through fall, I do all my canning in my All American Canner on a propane burner outside and much of my cooking in our Solavore Solar Oven and on our Stovetec Rocket Stove. When cooking outside is not an option, or I am baking breads and pies, that is when I utilize the solar power to run my toaster oven and hot plates. I also use these methods for heating water to wash my dishes with.
This is also the time of year Mr. runs all of his power tools such as his wood lathe, table saw, and welder off of the solar power. Since they can pull quite a bit, it is rare he does this in the winter so that is one area we have to fall back on public power. Even with our good sized set up, when you live in a place that can get up to 160" of rain in a year, there are those times when we get little collection. Though to us, it is still worth it with all we can do through most of the year and know it is there for us in power outages.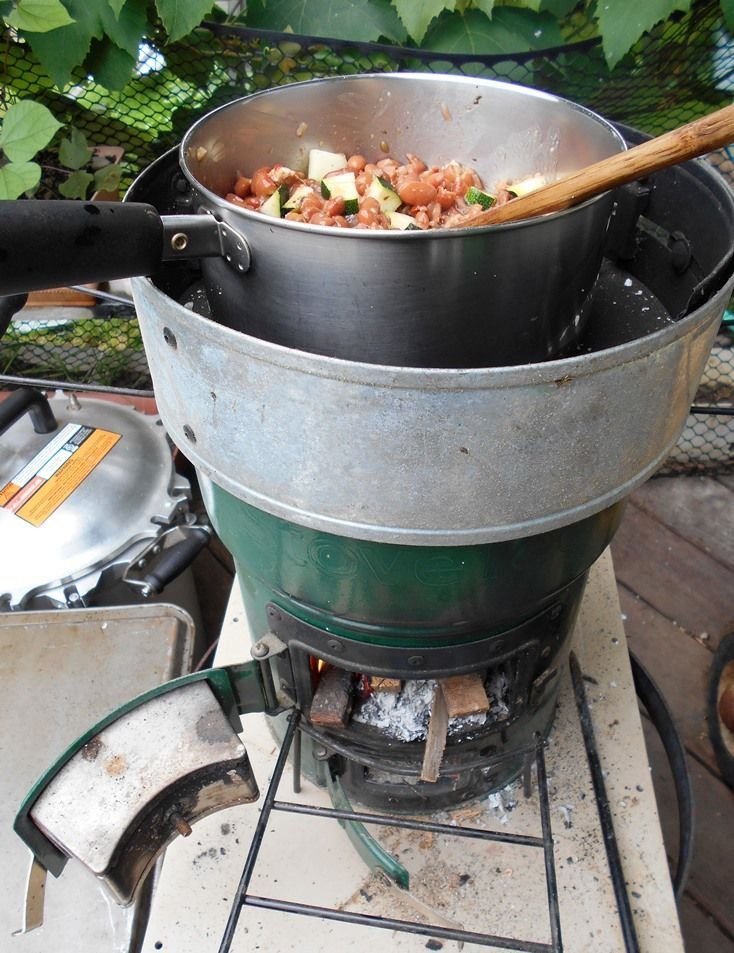 Though we usually take our showers using our public power heated tank, we have successfully tried other methods for getting cleaned up with hot water involving heating the water on the wood stove or solar run hot plate. At one point we had a pump that ran off our solar power that would pump the heated water, that was also mixed with cold tap water to get the right temperature, from a large pot through a separate shower head that Patrick installed on the opposite end of the tub. It was a great set up until our pump gave out so now we set the big pot in the tub and use a large handled cup for pouring the water over us. This works really good and I do not mind it myself, but we are still thinking up other methods we may implement down the road.
Until we come up with a better idea that does not require a pump we usually opt for the convenience of using the regular shower heated by public power - especially in the summer when we do not have the wood stove going constantly.
Now that we are into winter and I always have hot water on my wood stove, I am back into using the big pot and a cup and love that I am staying practiced up and saving money at the same time. Even if we never fully go off grid, power outages happen frequently here so having an effective way to get cleaned up with warm water is a must.
One thing to note is having the big pot of hot water in the tub and making sure the shower curtain is fully shut, keeps it warm in there so there is no need for added heat in the bathroom to keep from getting chilled.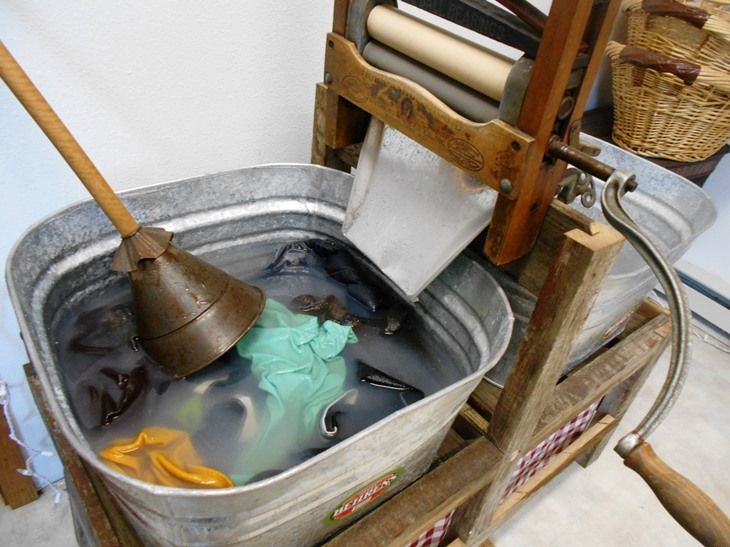 I have a very nice off grid laundry set up that I use on occasion (which I love doing - believe it or not), but mostly, I run the electric washing machine powered by the sun because the many things that keep me super busy around here. I will be doing a more detailed post on how I do laundry off grid in the future for those interested.
In the winter time in Rain Country where we see very little sun so our solar power is minimal, I do nearly all my cooking and baking on our wood stove, which is also used for drying our clothes, dehydrating meats, herbs, and produce, heating water for dishes and "showers", and heating the house. I would say the wood stove is the most useful energy saving item in our house.
Making homemade tortillas on the wood stove while cooking the sauce for enchiladas and heating my tea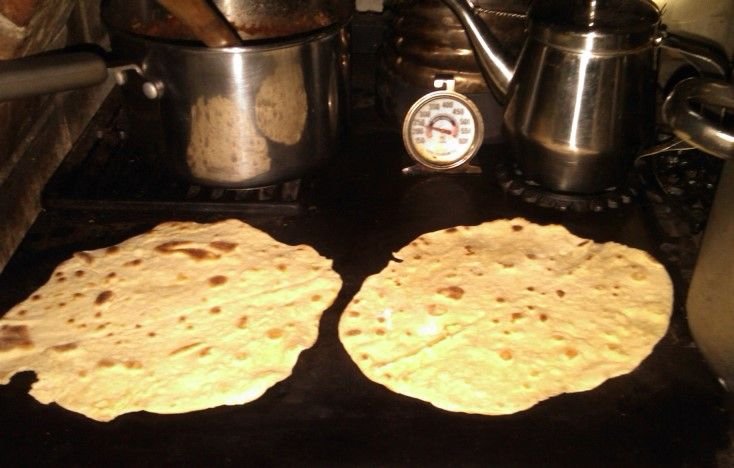 We also use a lot of things run by hand or foot power such as my treadle machine. Yes, I do ALL my skirt and apron orders on this thing, plus everything else I sew such as quilts, curtains, alterations, and more. I know it looks like an electric but it was actually purchased new this way - not even converted as some think when they see me sewing on it. Here is the link to the one I have: Janome Treadle Machine. I am now into my 5th year with that machine and it has been the best one I ever owned and I have put a good many miles on it.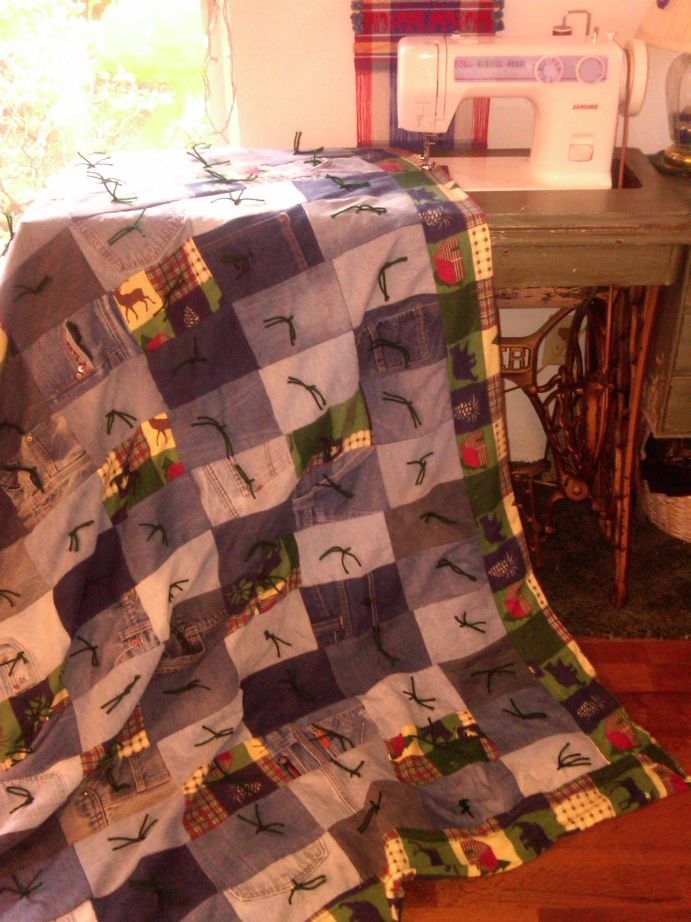 I also grind my own flour and multi grain hot cereals by hand with my Country Living Grain Mill.
This thing is built like a tank and should last for many generations. It was an investment but one that I believe is well worth it to any home that is off grid or wants to be prepared for when no power is available. It can even be used to make nut butters with a special nut butter auger that we recently tried out. Best peanut butter ever!
Though I do love grinding by hand, recently Mr. Rain rebuilt an old motor that can plug into our solar outlet and set it up to be used with my grain mill for those busy times when there are just not enough hours in the day to keep up on my flour needs by hand. I still grind by hand from time to time but having that motor has truly been a blessing and taken off a bit of stress when I am feeling harried by all the many chores and am still needing to grind flour.
Here is his video on how he refurbished the motor and got it hooked up to the mill:
I also use many other things like a manual food processor and egg beater - though rarely used for eggs it has been used for making mashed potatoes, whipped cream, and other things most would use an electric mixer for. I have been eyeballing this hand crank blender for some time but wish the pitcher was glass rather than plastic. If I could be certain the pitcher from my Oster fit on it, I would consider it more seriously. For now, I just run my trusty electric one off the solar power. Besides, that Oster 14 speed blender has been both the least expensive and best blender I have owned and I am happy with it.
Our freezers and fridge run off of solar all year (with the exception of a few really dark days in the winter), I have two electric dehydrators I run on solar from spring to early fall, and for Mr. Rain's iced tea - well, I do it the old fashioned way by setting a glass jar with tea bags out in the sun for several hours.
In the summer the coffee and my homemade herbal infusions are brewed on the hot plate or rocket stove and in the winter on the wood stove.
When it comes to water, we do have a decent rain water catchment system and like the power, we use both that and the city water. City water for washing, rain water for drinking, cooking, and watering the garden.
Making biscuits and gravy on the rocket stove this past summer:
I am sure there are things I am leaving out as there is much we do that is unconventional by today's standards but is just a way of life for us.
So aside from what I am likely forgetting, that should pretty much cover how we live partially - I would say mostly - off grid.
We will continue to move ahead in this area and may some day finally cut those last ties so we can be truly autonomous from the grid.
Thank you again for your time Faithful Reader ~Heidi