Wonderful Uses and Benefits of Wooly Lamb's Ear
Wooly Lamb's Ear (Stachys Byzantina) is another one of the many multi purpose herbs that the more self reliant types should consider growing if they are not already. If you are already growing this lovely, velvety plant, maybe you can learn something new from this article.
One of my Lamb's Ear plants in my West herb garden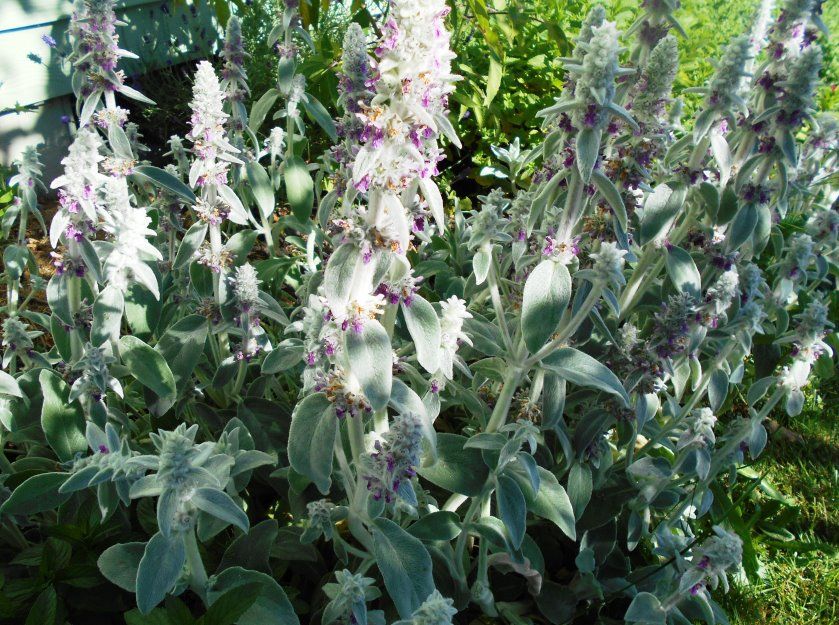 The soft leaves make a great bandage because they are absorbent, antibacterial, and antiseptic. They also have anti-fungal properties which is what gives them the ability to help cure candida overgrowth.
It can be used to treat cuts, scrapes, burns, bug bites and stings. I have used it on several occasions with a bit of chewed up yarrow or plantain in the middle of the leaf and held onto the wound with a a bit of gauze, loosely wrapped ace bandage, or even a small rubber band.

The bruised or dried leaves can be brewed into a tea and taken internally to help treat many things such as internal bleeding, soothing sore throats, candida overgrowth, and helping assist in heart and liver health. Because of the antibacterial properties, it can also be useful in treating staph infections, E. Coli, and more.

It even makes a great toilet paper substitute and I have tried it myself. I have found it is much better than toilet paper. One thing I experimented with this past summer was picking a bunch of the leaves and keeping them in a mason jar in the bathroom during growing season. Though I already save a lot on toilet paper by using cloth wipes (seen to the right of the photo below), I can save on laundry as well by using the fresh leaves of this abundantly growing plant.
I had initially tried keeping them in just a bit of filtered rain water to keep them from drying out but that is not a good idea as they are so absorbent, they end up too wet. If picked fresh daily, there is no need to keep them in water as shown in the photo.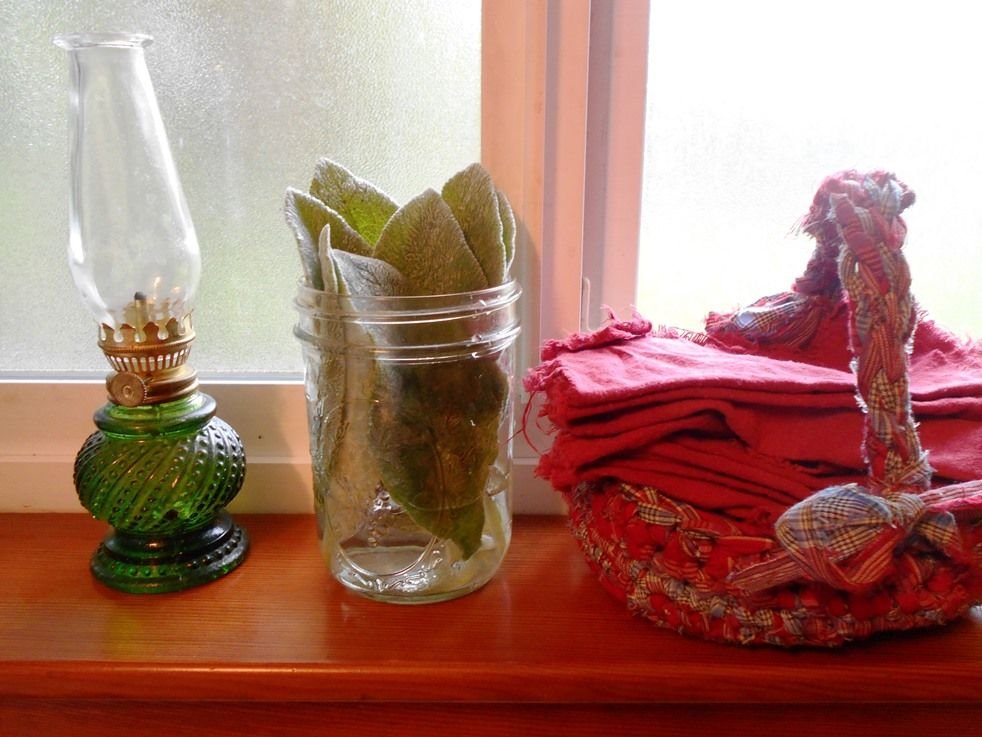 Lamb's Ear is also very lovely in the garden with its lavender flowers and silvery green leaves. Here it can be seen growing just behind a couple of my runner beans with some of my marshmallow to the right and a lavender on the far side:
When I finally decided to try making tea out of the lamb's ear, I was very pleased. The taste is mild enough to blend well with any spice or herb. Sometimes I just add a bit of homemade vanilla extract and is very good.
Though I had initially started growing this herb for its topical uses, finding the many great internal benefits and how wonderful it is as a tea was very satisfying as not only do I love finding more purposes for such plentiful growing herbs such as this, I also like having other options for my nightly herbal infusion blends.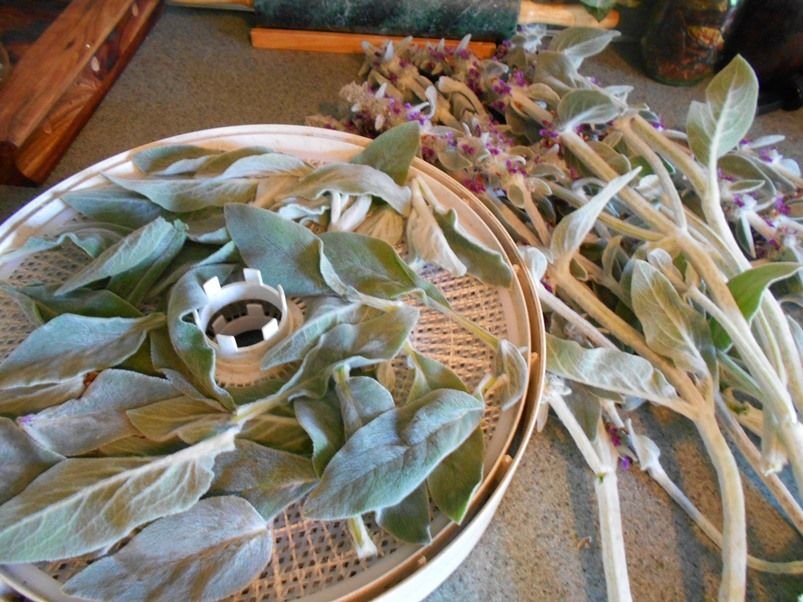 Once I discovered how a wonderful tea they made, I started dehydrating up a bunch in hopes to have enough to get me through the year. The interesting thing I discovered about these velvety, absorbent leaves is that they actually dehydrate more quickly than most herbs I dry but because of their thick, fuzzy texture, they seem to stay the same size even once they are fully dry unlike other herbs that get reduced to half or quarter of their original size.
A jar of my dried and crushed Lamb's Ear for teas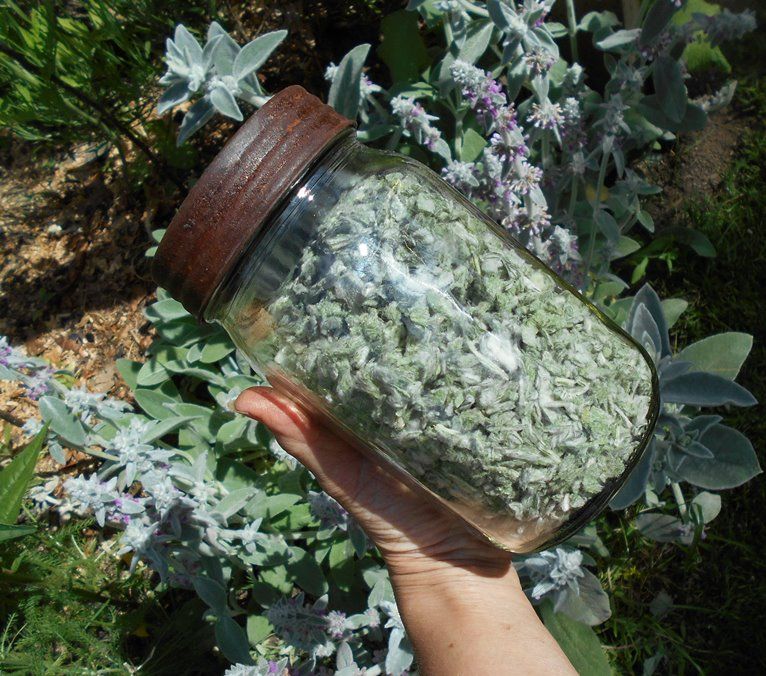 A cup of my Lamb's Ear infusion with vanilla in mid summer - which explains the garden stained hands!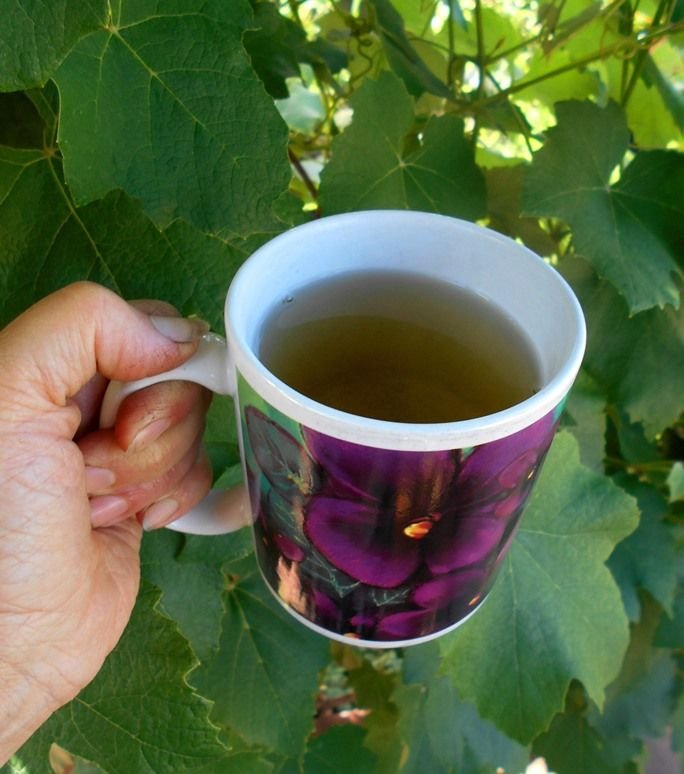 One thing to keep in mind if you decide to grow this herb is that it does spread and self seed quite easily and it can overtake your garden if you do not keep it in check. Last spring I had to dig up three very large plants to give me more garden space. Though I still had three big plants left, I started to regret a bit digging up the others once I discovered how my I liked the herb as a tea, no worries though, it will keep multiplying so I think I may just transplant some new ones that come up to one of my front garden beds.
Here is a brief video I did on the Wooly Lamb's Ear this past summer before I started using it as a tea:
Hope you enjoyed this post and that I was able to pass on some helpful and useful information! Thank you for your time Faithful Reader ~Heidi
For those interested, I am selling a limited supply of my Wooly Lamb's Ear Seed on my Etsy store
NOTE: I am NOT a doctor nor pretend to be one. Nothing I say should be used to replace professional medical counseling! Also, PLEASE do your OWN research!
Other articles you may enjoy: