Off Grid Laundry
To start off with I need to make clear that I do not always do my laundry like this as our solar power is enough to run my electric machine most of the year round and we are still connected to public power so my electric machine is what gets used more than anything. However, there are those dark days in mid winter where we get little solar collection and get frequent power outages on the public service side of things. I also do not have any grand illusions that nothing with ever go wrong with our solar power to where that is unavailable to me. Plus, one never knows when the electric machine will decide to break down - other than the inevitable fact it will happen in the middle of running a load. Thus, it is important for me to have a back up plan for doing laundry. This was the main reason why we put this set up together.

Of course one does not just set up such things and wait for a disaster to happen to start using. It is very important to know how to use it and be practiced up on it so it is not an added stress having to learn it when one is forced to do so for whatever reason. Thus, I practice on it whenever I can and it is a good thing because there were some things I needed to work out that only through practice would I have realized would be an issue.
Believe it or not, I actually enjoy washing the clothes this way when time allows and I am not swamped with sewing orders and other chores so when I find the time to use my off grid set up, I find it a bit of a treat. I love the natural movement of the agitating and the wringing. It is just another way I can get exercise while also getting something else productive done. Much like using my hand crank grain mill or my treadle sewing machine.
Both the wringer and the agitator are from the early 1900's and we found them on eBay. The rack was built for me by my amazing and talented husband. He also fabricated the tubs, that we purchased new, to have drain holes at the bottom with hoses attached to each. I will link to his videos below on how he did these things.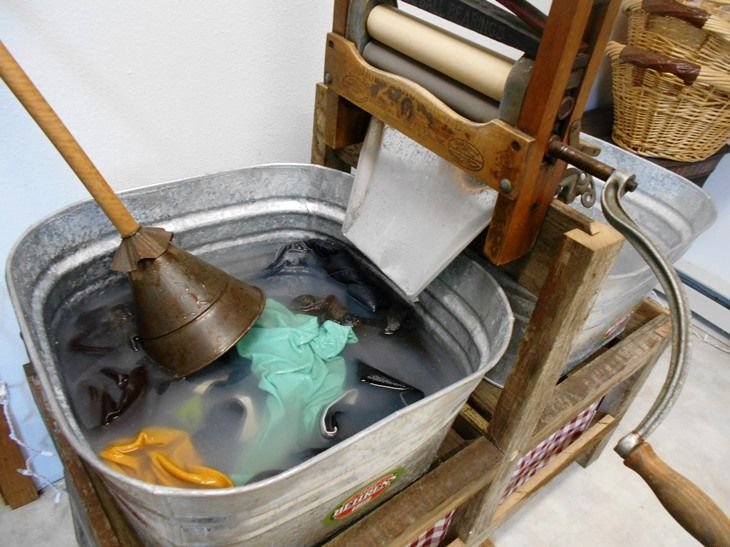 Now on to how I use it. I start by filling the wash tub up with my homemade laundry soap, water, and the dirty clothes. Patrick installed a hose just behind our electric washer, which sits on the opposite side of the non-electric set up, for the sole purpose of making it easy for me to fill the tubs. I am currently using city water at this time, making the set up not completely off grid, but we can also use our rain water collection when needed. Besides saving the time and energy of packing in the rain water, we prefer to conserve it for consumption and watering my garden because even here in Rain Country, we can get a dry spell in mid summer and keeping that rain water saved for these things during that time is very important. However, we still know it is there to use for washing as well if access to city water is not available for any reason.
I agitate the clothes for a total of about 15 minutes allowing two times in the middle of those for good soaks. I then run each piece through the wringer and into the rinse tub where I agitate for at least another five minutes. I add a bit of white vinegar to my rinse water for a cleaner rinse and deodorizing.
.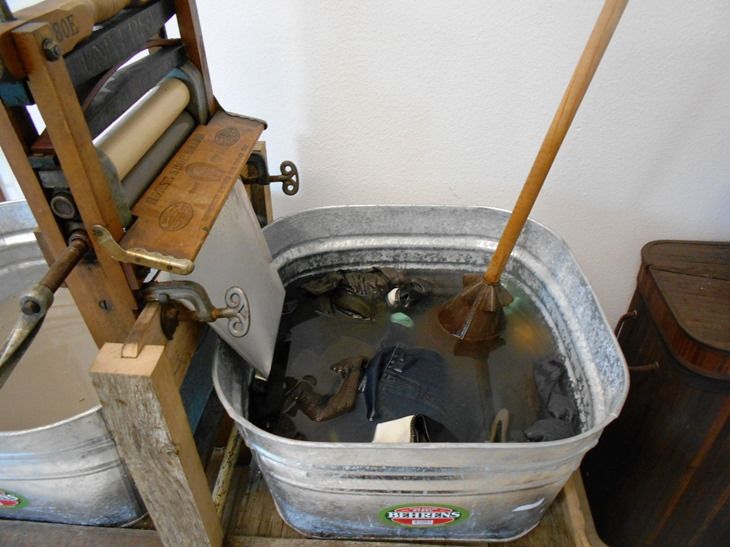 Since my laundry set up is inside, Patrick formed a piece of flashing to channel most of the water back into the tubs rather than running straight down onto the floor. I also have a pan directly under the wringer to catch whatever still gets through but it is a pretty small amount so my floor stays pretty dry through all this.
I then place a rack over each tub for the next wringing. Because the water drains very slowly or I am going to reuse it for a second load (if clean enough), I need the racks to prevent the longer items from falling back into the water. This was one of those things I had to figure out in my first couple of tries at using this set up.
At this point, I run the items through the wringer at least twice then toss into the basket for hanging.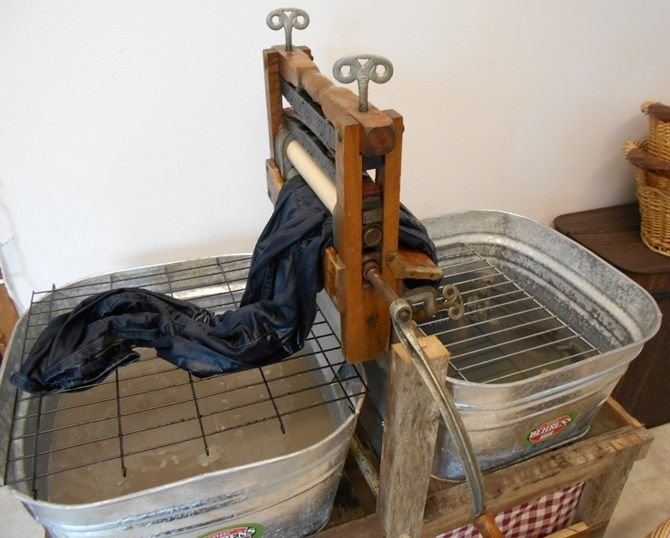 When I am done, I pull out the hose that is hooked to a splitter and two smaller hoses that connect to the bottom of each tub and drain them into a watering can for use on garden areas where my outside rainwater hose does not reach. I have no concern for the soap in the water because I know exactly what is in it since I made it completely from scratch with all natural ingredients.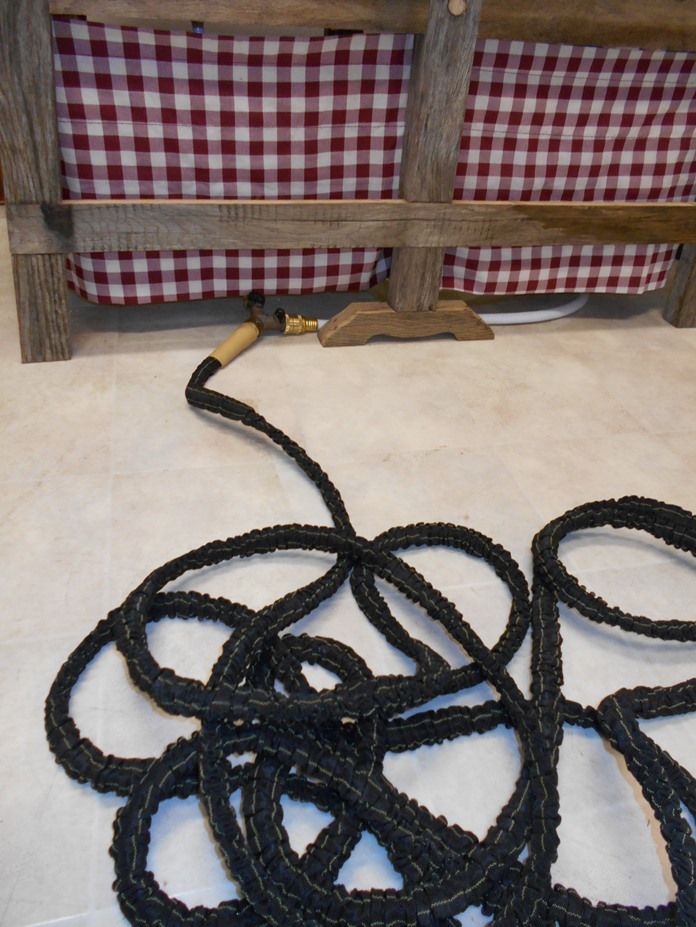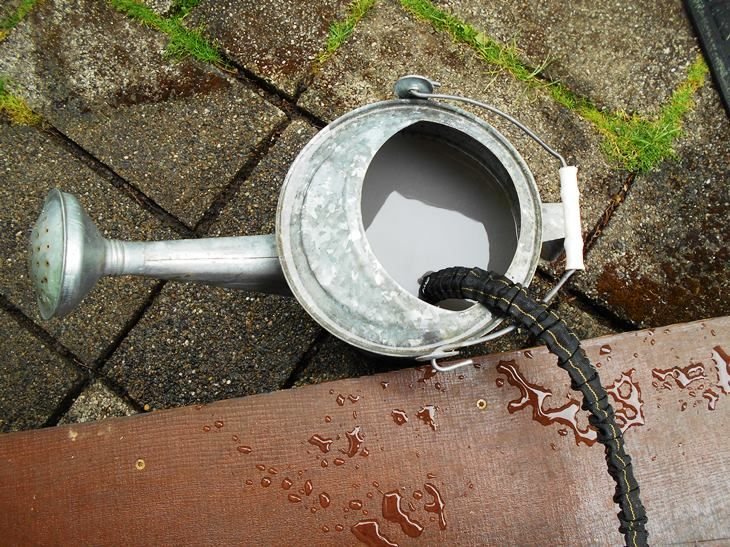 The obvious next step is to hang them on the line to dry. In the summer that means hanging them outside but I do also have two indoor clothes lines in front of my wood stove. These are what I use the other nine months of the year when dry days are rare here.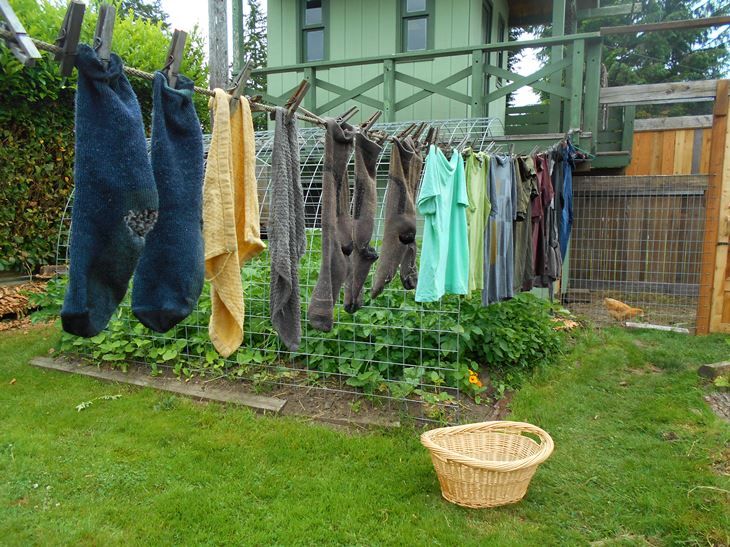 Below is the first video (be sure to check out part 2 linked in the video) of Patrick building the wood platform for the tubs and wringer:
Here is the video showing how he set up the wash tubs for draining:
For those whom are considering going off grid or wanting options for laundry in case of power or machine failure, I do hope you find this article helpful.
Thank you for your time Faithful Reader!
~Heidi
Other articles you may enjoy:
All Natural Laundry Soap
Garden Reflections and Lessons Learned
Make Your Own Organic Nut Milk